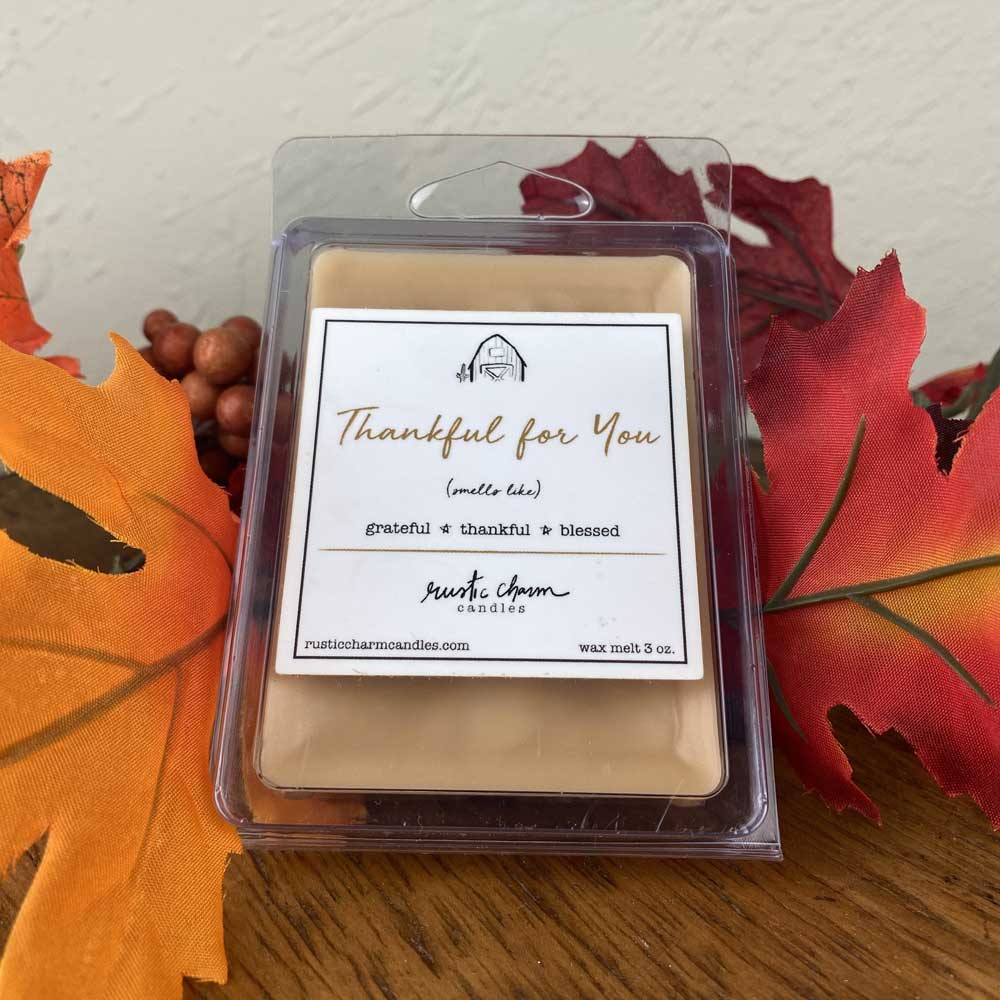 *Fall* Thankful for You Wax Melt
Who are you thankful for? With this sweet scent, you can show your gratitude to that sweet someone in your life – or yourself! Our pecan pie blend of sweet, sugary and caramel-like scents is a perfect reminder of relaxing at home on the holidays or a cozy night in.
Finding your perfect method
Love the burn of a candle? Or are you more of a drop in the melt warmer and leave type of person? No matter your fav, we have something for you!
Thankful for you is available in our signature 12-ounce candle, wax melts, room & car sprays, and in a wood round car scent! No matter the kind of person you or that special someone you want to show gratitude towards, this scent is immaculate for anything and anyone.
About Our Wax Melt Clamshells.
We love how our Wax Melts are a perfect flameless alternative to our candle line! If you are looking for a strong scent throw, wonderful Rustic Charm original fragrances, but without the flame and smoke, look no further!
Hand-poured and Hand-crafted.
Each of our wax melt clamshells is poured by hand with love at our shop in Breckenridge, Texas. We take the time to ensure each product we ship out meets our quality standards so you can rest assured you're getting our best every time. We love what we do, so you can love what we make. 💛
Family Business.
By purchasing Rustic Charm Candles, you're supporting our small family business in the heart of Texas. From production to your hands, our family pours, packs, and ships your candles.
Some specifics on our 3 oz. Wax Melts:
An entire bar can last 50-80 hours of warming. Each cube lasts about 6.5-10 hours. Tip: If you only warm your wax to the point that your room is full of fragrance, and then turn it off, you can help your wax retain scent longer!
Our fragrance oils are derived from essential oils and are tested safe for use in candles.
Please note that due to individual hand pouring, the color may vary slightly from product to product.
You will need a wax warmer to melt these cubes.
Recently Viewed